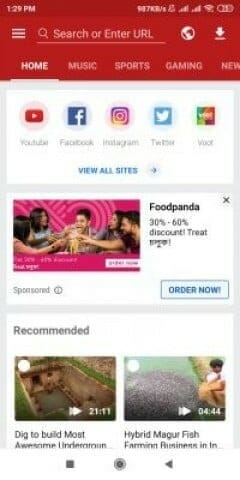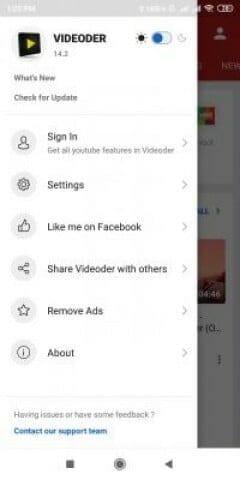 Videoder DESCRIPTION
Videoder has over 40 million downloads which makes it one of the best YouTube downloaders on Android. The app originally started as a YouTube downloader, but now you can download music and videos from more than 1000 sites.
It is such a tool where you can download any type of videos from other sites. It can also be used to convert YouTube videos to MP3. This application has a version for Android, Windows and even for Mac.
Some of the sites that support Videoder app are Facebook, Instagram, Twitter, TikTok, Voot, Ozee, 9anime, VidMe, Dailymotion, Soundcloud, 9GAG, AudioBoom, LiveLeak, Ted, Vimeo, Vine, VK, SonyLIV, TVF play, Youku , Rutube, Viú.
FEATURES
Download 4K videos – It is evident that the clearer we see things on the screen, the better. So what would be better than 4K videos? This app allows you to stream or download 4K videos and also play them on Ultra HD devices.
Faster download (up to 10 times faster): This app uses numerous network connections so that the video download speed increases. The user can configure the number of connections according to the quality of his network and obtain the maximum possible speed.
Multiple Download: You can also download more than one song and video in one go by making a collection of them. Save a lot of time by being able to download hundreds of songs and videos with just one click.
Fast Download – It is a very useful tool that allows you to download videos when you are in a hurry. The links do not need to be loaded and just 2 simple steps will complete the download.
Cover Art & Tag Editor – User can set cover art and add mp3 tags to their entire music library to suit their preferences.
YouTube Playlist Download – With just one click you can download your entire YouTube playlist. You can also select some of the videos and download them in one go.
Smart Link Detection: When the user copies any link, Videoder distinguishes the link and pops up a download window. Save time and make your task easier.
Blocks ads on the web: It has a built-in browser with ad blocker. Thus, one can browse the web without any interruption.
Unlimited Themes – User can choose any theme and color from the palette and customize the rendering of the app to their liking.
Night Mode – In addition to the many themes and colors, Videoder also has a Night Mode feature to make it easier to use the app at night.
Videoder APK Download For Android